Makeup tools are as important to the makeup application as the makeup itself. These tools include brushes, brush shampoos, sponges, combs, wands and pencil sharpeners. The cosmetic products will only look as good as the tools used to apply them, so investment in quality cosmetic tools is critical.
From sponges to blackhead vacuums, the market is full of gadgets to help you maximize your beauty routine. Finding a tool that simplifies any aspect of our makeup routine (or makes it more fun) is our favourite hobby outside of the office⁠—that's why we've rounded up essential beauty tools that every makeup lover should own.
19 Essential Makeup Tools and Innovative Gadgets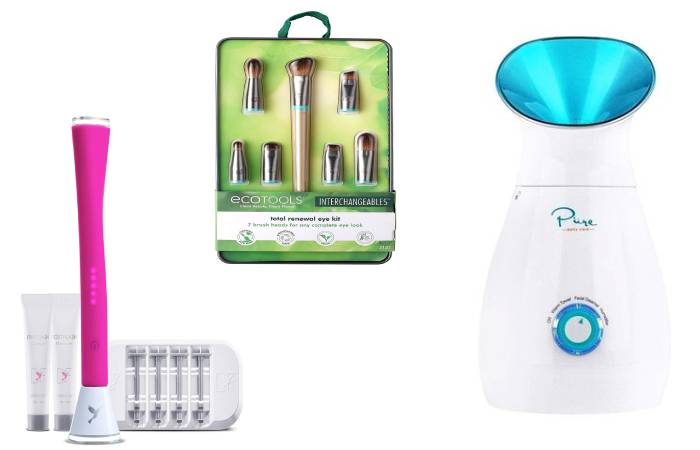 1. NanoSteamer
This daily care steamer and humidifier are perfect for opening your pores for improved product penetration.
The better your skincare is absorbed, the better canvas you have for makeup application.
2. Face Halo The Modern Makeup Remover
This product is essentially a soft washcloth that removes every product trace when you wet it⁠—no cleanser required.
Pretty genius, right? All you do is wet the pad with water, then lightly buff over your face in a circular motion to remove makeup on the face, lips, and even eyes. Each Halo is reusable⁠— throw it in the washing machine.
3. Beauty Blender
Don't let any other lookalike sponge fool you. The Beauty Blender makeup blending sponge reigns supreme.
This water-activated sponge helps you blend foundation, liquid highlighters, cream blushes, and so much more.
And since it's reusable, you'll get your money's worth. Formulated to absorb minimal product, the makeup tools stay on your face and don't get absorbed (i.e. wasted) by the sponge.
Extend the life of your blender by cleaning it regularly with Beauty Blender Liquid Cleanser.
4. DERMAFLASH Luxe Device Sonic Dermaplaning Tool
This at-home dermaplaning tool helps create a smooth canvas for makeup by removing the oldest layer of dead skin cells, along with peach fuzz and surface debris that has built up on your skin over time.
According to Dermaflash, a clinical study found that the texture, tone, and radiance of skin was instantly improved after just one use of the device, helping skincare to absorb more efficiently and allowing for flawless makeup application.
5. Rotating Makeup Organizer
This rotating makeup organizer helps keep all of your makeup, skincare, and fragrances neatly organized for easy access.
You can store everything from makeup brushes to skincare in this easy-to-spin holder, featuring clear, adjustable trays for optimal customization and visibility.
6. ETHNOS Jade Roller & Gua Sha
This jade facial roller and gua sha stone are formulated to help soothe tired and puffy skin, promote circulation, and help skincare absorb more efficiently with daily use.
Massage over the skin in the morning to wake it up and use it at night for a calming, relaxing experience.
Please keep it in the refrigerator to allow the stone to fully cool before rolling on the face for the maximum depuffing effect.
Use a jade roller and gua sha tool before makeup application for a more sculpted look.
7. Ecotools Brush Set
This easy to use makeup brush set comes with everything you need for a starter set of makeup brushes, perfect for daily use and travel.
With an angled foundation brush, concealer brush, eyeshadow brush, angled liner and blush brush, you have all the bases covered.
To boot, everything is cruelty-free and made from recycled aluminium and plastic (with 20 per cent cotton and 80 per cent bamboo fibres).
8. Glamcor Riki Skinny Mirror
Say goodbye to bad lighting and leaning over your sink to look into your bathroom mirror—you'll never be the same after using this light-up glam stand from Glamcor.
A lighted perimeter lets you see every detail when applying makeup in the morning or evening for a perfect finish and features dimmer settings, a rechargeable battery, and a selfie timer function.
9. Brush Pearl
I don't know who needs to hear this but wash your makeup brushes.
This ultrasonic makeup brush cleaning device cleans multiple brushes at once in three cycles (wash, rinse, and dry) without damaging the delicate bristles.
Clean your brushes with BrushPearl once a week for sanitation and the prevention of blemish-causing bacteria.
10. Eunos Blackhead Remover
If you're a makeup tools lover, you've probably woken up to your fair share of blackheads and clogged pores. This device allegedly "vacuums" grime from your pores and plenty of skincare addicts swear by it.
First, steam the face to open your pores, and then gently glide the device over your skin to rid it of all dirt and clogged pores (focusing on areas where you're prone to blackheads).
11. Hotop Mascara Shield Applicator
Ever applied mascara only to tap your lids or brows with the wand accidentally? This mascara "shield" helps you use mascara to the tops and bottom of eyelashes without the dreaded streaks.
Place on the eye, apply mascara liberally and don't worry about anything else.
12. Cute 4pcs Silicone Face Mask Brushes
The next time you reach for your favourite face mask to prep for makeup application, use one of these brushes versus dipping your fingers in the jar—which can contaminate the product with bacteria from your hands.
When you use a synthetic face brush to apply your mask, you end up using less product and get a more even application (plus cleaner lines for better selfies).
Also Read: What is Forex Analysis? – Works, Examples, Types, and More
13. Pixnor 4 Pcs Tweezers Set
This set of precision tweezers gets unruly hair out of sight for better brow makeup application, but they can also help for more precise false eyelash application.
14. Chella Eyelash Curler
Are you tired of clamping down traditional metal eyelash curlers? Just like a hot tool works better on your hair when it's hot, this heated lash curler gently warms lashes to deliver a long-lasting curl: no crimping, no pinching, no clamping.
Use a heated eyelash curler before mascara application for the best result.
15. Cooluli Mini Fridge
The novelty deemed the "skincare fridge" has become all the rage, and the obsession is nowhere near over.
Want to boost the calming, depuffing powers of your face rollers, eye creams, gel patches, and primers? Store your products in this mini fridge to enhance the cooling effect of your favourite products.
16. Japonesque
If you're anything like the Byrdie editors, then you have an impressive lipstick collection that's in desperate need of consolidation.
This palette contains 24 wells for you to deposit your lip colours into⁠—putting all your lip products in one place, so you have all the options and all the drawer space.
17. Qivange Eye Makeup Brushes Set
Brushes are the most basic, versatile product to keep in your beauty arsenal. And while there are essentials for the face, the eyes are often (mistakenly) overlooked.
If you're smudging eyeshadow with your fingertips and hoping for the best, let this brush set made specifically for the eyes elevate your look.
18. Eyeshadow Shields
Love eyeshadow but hate cleaning up the fallout from a smoky eye? These eyeshadow shields can be applied directly underneath eyes to catch any eyeshadow, glitter, or other kinds of products that fall onto the skin, meaning minimal cleanup and a smooth base for your face makeup tools.
19. Patchology
Were you experiencing dry, cracked lips? Use them often (and correctly), and these lip gels can be one of the most important tools at your disposal.
Wear before applying a drying matte to infuse moisture into lips, while peptides and green tea extract help soothe and restore elasticity.